REM
2012.12.21 update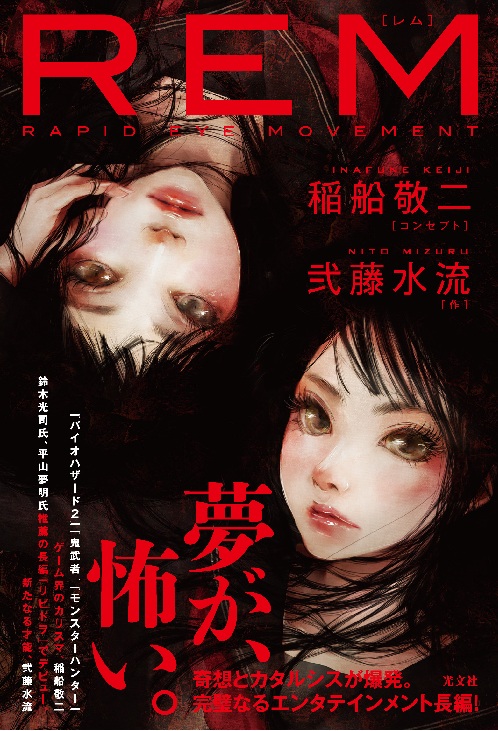 Dreams are fear. An explosion of fantasy! A new sensation of "brain dive" suspense
Global hit game creators Keiji Inafune, Koji Suzuki and Yumeaki Hirayama team up with Mizuru Nito, the genius author behind the highly praised debut work "LIBIDO", to introduce a new sensation entertainment novel.

The original concept was honed over many years by Keiji Inafune, a man active in a wide variety of entertainment. Mizuru Nito took this idea and reinterpreted it with the hand of a novelist, fashioning the concept into this new work.

The key idea behind this tale is "brain diving"! Dive inside the subconscious of a bloodthirsty killer to discover a world painted in bizarre tones the likes you have never experienced. This story explores the social issues of abuse and trauma while elegantly portraying the ideas of love and doubt inherent in the hearts of youth, crafting a memorable tale anyone can identify with.
The first novel for Keiji Inafune, and a singular work combining the strength of two writers!


【Plot summary】

Ryosuke is a young man living with his psychiatrist uncle. He has the ability to "brain dive"—enter the unconscious mind of a sleeping individual—as does a pair of twin sisters with whom he shares a common past.

A series of cruel and strange murders occurs in Western Tokyo. The suspect has no memories of the crime, claiming that someone was controlling him as he slept. At the time of his apprehension, he is said to have been going berserk while sleepwalking.

At the behest of the psychiatrist, Ryosuke "brain dives" into the suspect's dream. Shocking developments come to a head… just what is going on inside the brain of the criminal?


Now on sale in print and eBook formats (Japanese only)