Boiling OSSAN Eggs!
2014.6.10 update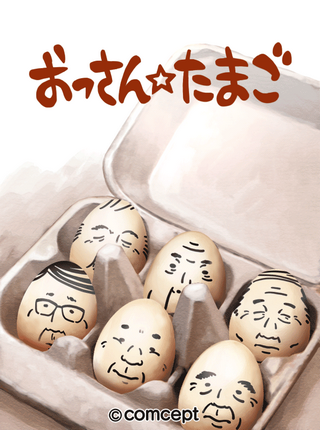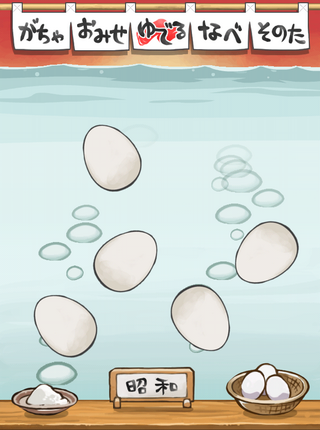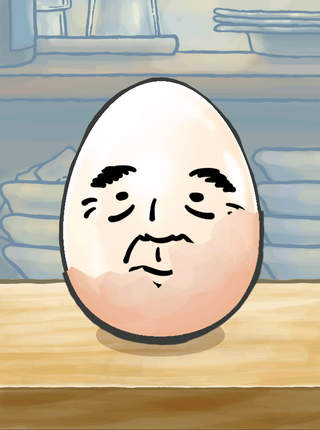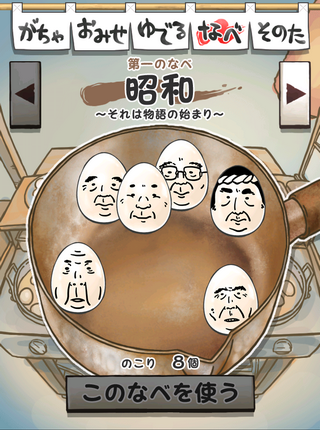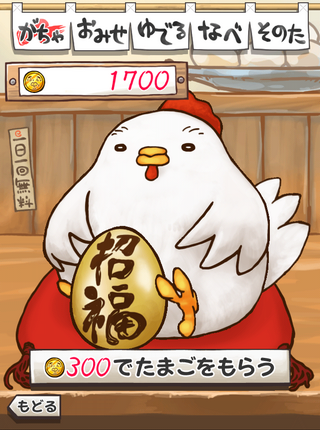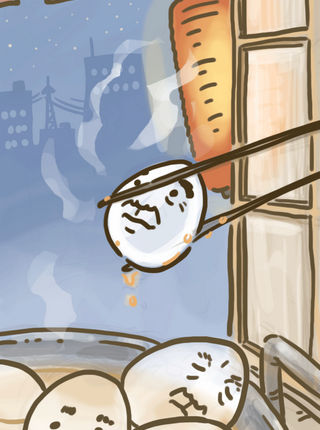 iPhone/Android App
Compatible models:
iOS devices (iOS 6.0 or higher)
Android devices (Android 2.3.3 or higher)
Rates: basic free-to-play (in-app purchases)
Here come the OSSAN!
A game of egg boiling and collecting
Introducing a simple game anyone can pick up and play! Boil the eggs to reveal the OSSAN! Have fun gathering the OSSAN Eggs, each one bursting with personality.


In this collection game projecting the conditions of modern society, once pure baby eggs are caught up in society's hardships, turning into old men ("OSSAN") in a variety of different flavors.
Thanks to all or our users enjoying this game, we've passed the 1.8 million download mark!
As a way to express our gratitude, we've added two new pots (OKAWARI NABE)! Please enjoy our boiling hot topic of popularity, Boiling OSSAN Eggs!
We release tantalizing new information for Boiling OSSAN Eggs! on our social media accounts from time to time, make sure not to miss it!
Twitter:
https://twitter.com/ossantamago
Facebook:
https://www.facebook.com/ossantamago
Boil the egg, crack the shell, and… huh? What's this!?
You've made an OSSAN!
If you're lucky, you may get to meet a rare OSSAN! You can use coarse salt ("ARAJIO") to speed up the boiling time and gather up a bunch of OSSAN eggs.
Put the OSSAN eggs in your pot (the "NABE"). Gather enough and you can unlock new NABE! New NABE mean new OSSAN to find.
There's a lot you can do by boiling eggs and collecting points. You can use them to buy eggs and wallpapers, change the look of your boiling screen and more!
Chicken is the mother hen that lays a few eggs every day. If you use points to buy eggs, you'll get a bonus item, too. You ought to check out the Change feature to give Chicken a smart new outfit!
Take a closer look at the OSSAN eggs you've gathered.
Each of them has their own profiles you can see.
Huh, those two OSSAN are… brothers?
Parents, coworkers, friends… enjoy discovering the quirky connections between each of your OSSAN!
Check out our Boiling OSSAN Eggs! videos on YouTube!
Boiling OSSAN Eggs! (Spot CM)
OSSAN☆Tango (Full ver.)
Available now!