Guild02 – Bugs vs. Tanks
2013.5.17 update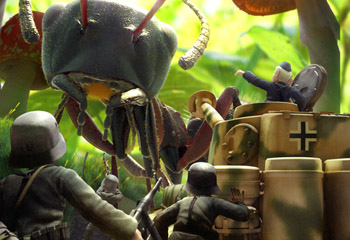 ©2013 Level-5 Inc., ©2013 KI/comcept
For Nintendo 3DS
Available on Nintendo eShop
Developer: Level-5 Inc.
Fight for survival in a miniature world!
The time is World War II. In a certain region, a tank unit suddenly disappeared from battle…
Written off as killed-in-action, these forgotten men had actually shrunken down to the size of ants, forced to fight off an onslaught of giant insects!

Why did they shrink in the first place? These brave men simply battle on with no time to wonder.
Now it's your turn to man a bug-sized tank!

Enjoy this never-before-seen miniature survival action game by creator/conceptor Keiji Inafune!



(Available for download)